Only four episodes into Married at First Sight Australia 2022 (MAFS), participant Cody Bromley is already making us cringe.
During the first few episodes, the comb-over/moustache sporting groom made so many rude comments that fans have labelled him 'the new Bryce Ruthven'. Ouch.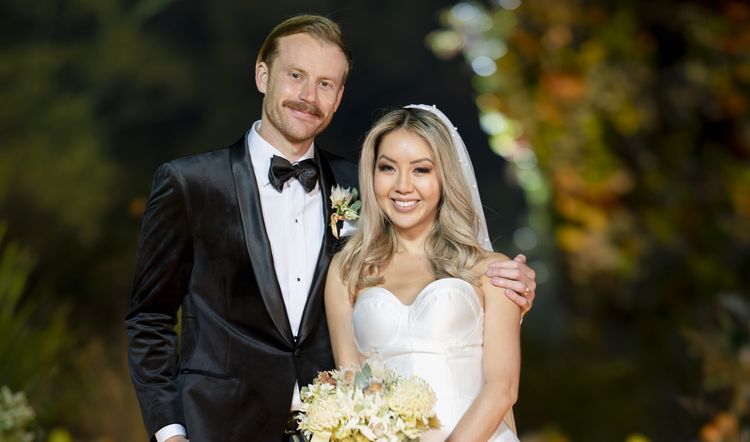 During the second episode of MAFS' ninth season, Cody was lucky enough to wed the gorgeous Selina Chaurr. Selina is a total queen, but for some reason, Cody just wasn't that interested. Ummmm, is he blind?
Throughout their reception, the 30-year-old repeatedly remarked that Selina was "full-on" and "great, but not that great".
Then, only DAYS after debuting on the show, Cody launched himself from 'simply an a-hole' status to teetering on Bryce—level bad.
Have you considered, Cody, that maybe you think her personality is full on because you don't have one? #MAFSAU #MAFS pic.twitter.com/59Fe5RdLiA

— Reality TV Tweets (@RealityTVTweet3) February 2, 2022
During the inaugural honesty box challenge, Selina confessed that she was sexually attracted to Cody. Cody, with his moustache and comb-over combo aside, only offers up an awkward laugh in response.
He then proceeds to admit that while he thinks Selina is "gorgeous" he isn't sexually attracted to her.
"It's like my schlong isn't coordinating with my head," he rationalised.
We would like to submit an honesty box Q for Cody: who TF do you think you are?
Our girl Selina deserves, at the very least, a man who doesn't use the word "schlong" still in 2022. Gross.
Selina was obviously a little shook by her groom's candour.
"Wow," was all she could manage to reply with – exactly our response, too!
A Quick Refresher: Why Was Bryce Ruthven So Bad, Again?
Bryce is one of the most controversial Married at First Sight contestants – like, ever.
In case you need a quick refresher: Bryce made a slew of hurtful comments to his MAFS bride Melissa Rawson during their 2021 honesty box.
When quizzed whether Mel was his usual type, Bryce came out with this absolute cracker (not) of a response:
"I'll be completely honest, not 100 per cent. I've always gone for the blonde hair, blue eyes, tan kinda girl. And usually tall. I can't say 100 per cent I'd come up to you in a bar and buy you a drink. When I first saw you I thought, 'Not my type'. But, I thought, she's not … ugly?"
That horrid little speech was only the start of Bryce's many misadventures on MAFS. Notably, he also had a secret GF and forced a kiss upon Beck Zemek.
Could Cody be going down the same path? Only time will tell.
We are begging the MAFS Gods to PLEASE take care of poor Selina!
Watch Married at First Sight Australia on Sundays at 7.00 pm and Monday – Wednesday at 7.30 pm on Channel Nine.
Want even more goss about MAFS, Cody Bromley or Selina Chhaur? Listen to episode 142 of the So Dramatic! podcast with Megan Pustetto below!
Know something about MAFS' Cody Bromley or Married at First Sight Australia that we don't? Spill the tea here!
Get the tea first! Follow So Dramatic! on Instagram and tune in on Mondays to get your reality tea fix with the So Dramatic! podcast with Megan Pustetto.