The Bachelorette Australia has provided us with countless memorable moments over the years, from dramatic dumpings to awkward AF makeout sessions.
With Brooke Blurton making history as the franchise's first bisexual lead, we thought we'd take you on a trip down memory lane to revisit some of the best (and most cringeworthy) moments in Bachelorette Australia history.
Ivan Krslovic Blends a Whole Avocado
During Ali Otjen's 2018 season of The Bachelorette Australia, Ivan Krslovic was tasked with making Ali some avocado mousse. What happened next was jaw-dropping and quite frankly illegal.
In a moment that stunned anyone who has ever been in a kitchen, dear old Ivan looked at the avocado as though it was from another planet. Moments later, he dropped THE ENTIRE AVOCADO into the blender.
Yep, skin on, pip still chilling on the inside and not a single slice in sight.
When the hot brown mess was presented to Ali, she just knew it was the whole (!!) avocado. Nothing like avocado skin mousse, am I right?
Shoutout to Ivan and his epic dance moves though.
Literally Anytime Sophie Monk Was On Screen
Aussie Icon Sophie Monk was The Bachelorette in 2017, making us lol multiple times per episode.
From saying seawater tasted like balls to mouthing "F*CK" to the camera after Ryan Jones said he doesn't like women with a potty mouth — this woman was everything we needed on our screens and more.
The most WTF moment of the season was when she ended up choosing mega-rich Stu Laundy over cute but clingy Jarrod Woodgate. This was despite Stu having had a vasectomy while Sophie had been banging on about wanting kids for eight weeks straight.
Her unceremonious dumping of Jarrod left him wandering the beaches of Fiji alone. We hate to admit it, but his solo ugly cry made us LOL but also die a little on the inside.
The Ali Oetjen and Grant Kemp Cheating Scandal
Before appearing on The Bachelorette, Ali Oetjen was accused of cheating on her Bachelor In Paradise man Grant Kemp.
Talk of threesomes, cheating with housemates, and sex on staircases circulated after Ali traveled to LA to see Grant following BIP. Unsurprisingly, their relationship couldn't withstand the sh*t storm of allegations.
Ali then went on to be the Bachelorette and dated winner Taite Radley for two years before their relationship ended in 2020. Sad face.
Jamie Doran's Stage-Five Clinger Edit
Every season needs a Stage-Five Clinger, and Jamie Doran fit the bill during Angie Kent's Bachelorette season.
On the show, he was the source of a lot of schoolyard drama and gave off some pretty intense vibes.
At one of the cocktail parties, Jamie saw Angie coming down the stairs and sprinted to her faster than I sprint to a hotel breakfast buffet.
Jamie initiated a conversation about said intensity and Angie dropped the bomb that the other guys have warned her about him.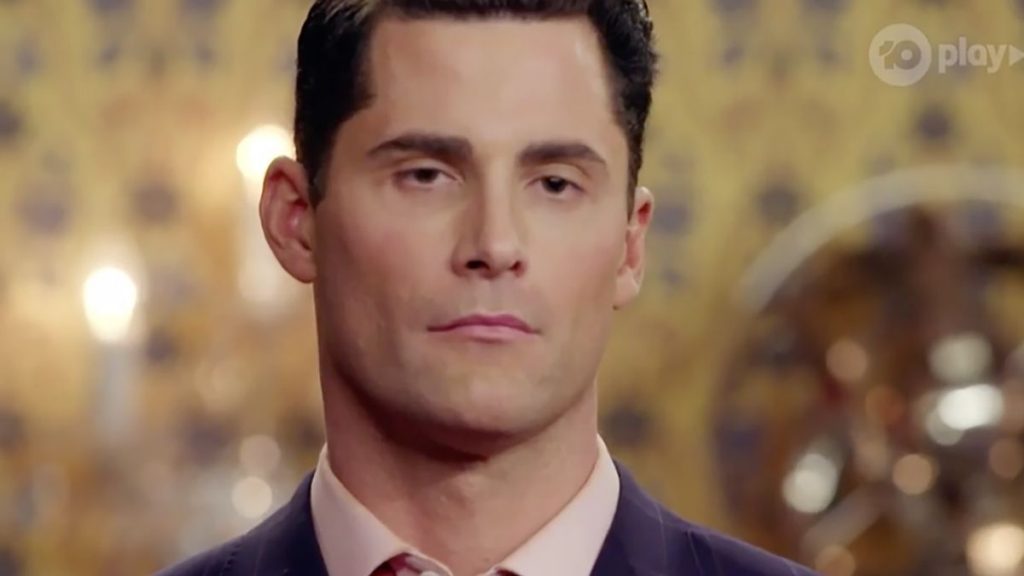 The firefighter saw red while admitting to being a Stage-Five Clinger.
"I'm too much of a good guy," he digressed.
Angie's reaction summed it up. She looked at him and thought exactly what every other woman in Australia was thinking — if you need to say you're a good guy, you're probably not one.
Unsurprisingly, the producers kept him around for comedy value.
Angie Telling Jess to Leave the Mansion After He was a Sleazy POS
"I would have just grabbed that sweetie and laid one on her."
This was Jess Glasgow's plan of action had he been up close and personal with Angie during a photoshoot challenge.
Jess later dug himself into a bigger hole by admitting he'd kissed women who had turned away from his advances before. GROSS.
Then, we caught a glimpse of him hitting on a Bachie waitress and producer. GROSS x2.
The King of Ick also called our queen a "bitch", before her ultimate winner Carlin Sterritt went straight to the Bachie to dob him in.
She then necked her champas before telling Jess to GTFO in a moment that will go down in TV girl power history.
Elly and Becky Playing Truth Or Dare While Dressed As Witches
In a Bachelorette Australia first, two leading ladies shared their quest for love in 2020.
Sisters Elly and Becky Miles both ended up finding love on the show (until they didn't), but there's one scene we cannot erase from our memory.
During a Halloween-themed party, all contestants are dressed up in what can only be described as costumes from the Reject Shop sales rack.
Several heavy conversations were had during a game of Truth or Dare and Never Have I Ever, including confessions of cheating by multiple guys (and Becky).
But how could we take any of it seriously when these grown-ass men revealed their darkest secrets while dressed as wizards!? Very on-brand for 2020.
We can't wait to see what iconic moments Brooke's season will have to offer!
Tune in to The Bachelorette Australia 2021 on Wednesday and Thursday nights at 7:30pm on Channel Ten and 10Play.
Know something about The Bachelorette Australia 2021 that we don't? Spill the tea here!
Get the tea first! Follow So Dramatic! on Instagram and tune in on Mondays to get your reality tea fix with the So Dramatic! podcast with Megan Pustetto.