Mark Philippoussis might be a tennis legend with a career spanning over 25 years, but his on-again-off-again relationship with reality TV is now full steam ahead as he joins the celebrity cast of SAS Australia 2021.
The 44-year-old's love of tennis emerged after being introduced to the sport by his father at the age of six. Since going pro in 1994, Mark has gone head to head with some of the sport's greatest players, particularly making a name for himself when he reached the final of the US Open in 1998 where he lost to fellow Aussie Pat Rafter.
A year later he cracked the worldwide Top Ten and helped Australia to win the Davis Cup final in Nice during the same year. In 2003, the sportsman faced former world number one Roger Federer in the Wimbledon tennis final but lost out on the title in straight sets.
The tennis star is one of several Olympians in this year's SAS Australia lineup, having competed for Australia in Atlanta in 1996, Sydney in 2000 and Athens in 2004.
Despite winning eleven singles and three doubles titles across his tennis years, Mark's career was plagued by a debilitating and recurring knee injury that unfortunately saw him sidelined for a few years prior to his 2015 retirement.
Arguments have been made that Mark may have had bigger successes in his tennis career if it weren't for his poor work ethic, with the top player being condemned widely as a "wasted talent" due to him allegedly placing more importance on flashy cars and high-profile relationships over his profession.
Most notably, Mark is known for his highly publicised relationship with Australian singer-songwriter Delta Goodrem, who he began dating in 2004. It was during this time that Delta was also diagnosed with Hodgkin's lymphoma, a time in her life in which Mark is understood to have been of great support to the singer, ultimately inspiring her song Out of the Blue.
Later that year, Delta was left "devastated" after it emerged that Mark was reportedly seeing American heiress Paris Hilton after she boasted during a shopping spree that she "has a new man and [is] head over heels in love", before citing the tennis star by name, according to The Sunday Morning Telegraph.
When told that Mark was in a relationship with Delta, Paris reportedly said "not any more", then made the shocking claim that the tennis star had moved on from the Aussie hitmaker because he was bored.
Mark vehemently denies this, telling 2GB radio's Alan Jones that he and Delta mutually parted ways for the better of their careers.
Since then, the tennis star has been engaged three times — Mark proposed to model and actress Alexis Barbara in 2005 after just five months together, presenting the then-18-year-old with a ring reportedly worth $200,000 (at the time), before the couple split two years later.
He was briefly engaged to actress-turned-author Jennifer Esposito before their split in 2010, before meeting his now-wife Silvana Lovin, a model, in 2012. The couple wed in September 2013 and now share two children, Nicholas and Maia.
Rumour also has it that Mark dated fellow tennis star Anna Kournikova in 2001, but neither athlete confirmed that they were an item.
It hasn't always been a high-flying lifestyle for Mark, however — despite earning over $8 million on the court and millions more in endorsement deals, the tennis superstar found himself in an expensive legal battle in 2009 when he declared bankruptcy.
Just 32-years-old at the time, he was sued by a finance company after he failed to pay the mortgage of his home, telling the Herald Sun that it was the "toughest time of his life".
Since starting a family Mark has laid relatively low, moving back to his hometown of Melbourne after living several years in the States, but reappeared in the spotlight when he took on The Masked Singer Australia in 2020 underneath the Echidna mask. Despite a commendable performance of Geoge Michael's Faith, he was the first to be unveiled and booted from the series.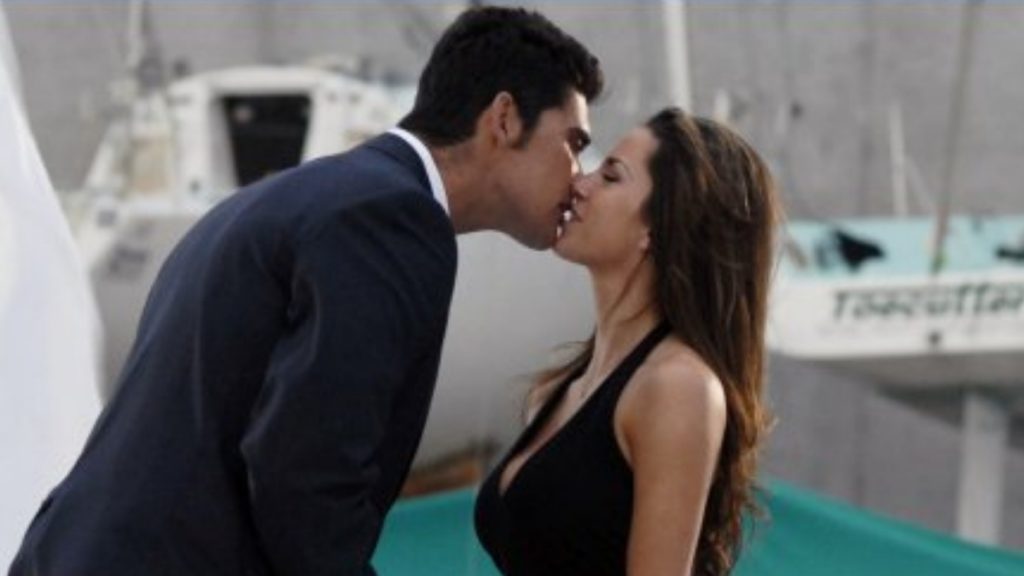 But that wasn't his first stint on reality TV! Yep, Mark was the star of Age of Love in 2007, an American reality TV series not unlike The Bachelor, although the premise centred on seven women in their forties (the 'Cougars'), and six women in their twenties (the 'Kittens') who all vied for the heart of a 30-year-old Mark Philippoussis. The show was a success at the time, with Mark embarking on a relationship with winning contestant Amanda Salinas until late 2008.
We're not sure if his dating show history or singing competition skills will be of any use in the SAS Australia pressure cooker but we bet the determination gained from his tennis career will get him far in the Special Forces course!
You can catch all of the SAS Australia action on Channel 7 and 7Plus.
Get the tea first! Follow So Dramatic! on Instagram, and tune in on Mondays to get your reality tea fix with the So Dramatic! podcast with Megan Pustetto.