Trigger warning: This article discusses substance abuse and domestic violence, and may be distressing for some readers.
Former South Sydney Rabbitohs captain Sam Burgess's physical strength will definitely lend to his experience on SAS Australia, but his chequered past could hinder the 32-year-old when it comes to the mental toll of the Special Forces course.
As shown in a teaser trailer for SAS Australia 2021, Sam broke down during the interrogation portion of the reality series, confessing he "lost it all" after being arrested for driving under the influence of cocaine when he failed a roadside drug test in February 2021. He was also charged with driving an unregistered vehicle without a valid NSW drivers license, yet avoided conviction with a nine-month good behaviour bond and a fine of over $1,000.
The incident marked the most recent event in a turbulent few years for the NRL player, who was the subject of an explosive report by The Australian newspaper in October 2020 , which alleged that the South Sydney rugby league club covered up drug use, domestic violence and harassment by Sam and promoted him to team captain despite the misdemeanours.
Mitch Hooke, the father of Sam's ex-wife and former journalist Phoebe Hooke, told the publication that he witnessed the rugby player assaulting his heavily pregnant daughter by crushing her with his body during a bender in November 2018.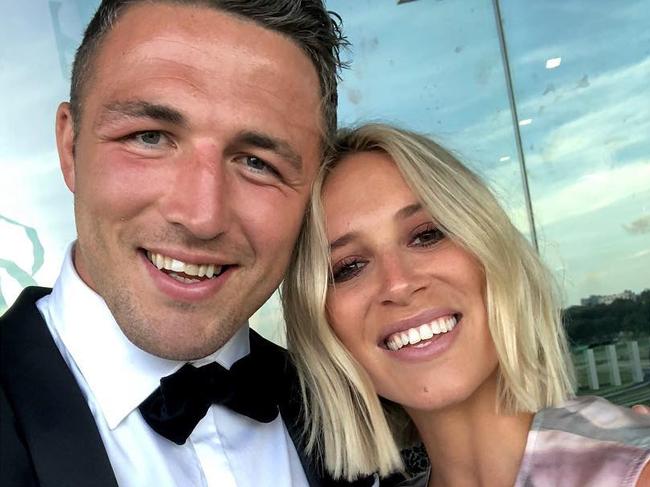 "I was worried she was going to lose the baby," he told The Australian. At the time, Phoebe was pregnant with the couple's second child, a son, William. They also share a daughter named Poppy, who was born in 2017. The couple previously met at an Avicii concert in Sydney in January 2014 and married in December of the following year at Phoebe's parents property in Bowral in the NSW Southern Highlands.
The rugby league player was also previously found guilty of intimidating his former father-in-law, but the charges were quashed in May this year after Justice Mark Williams deduced that there was a "substantial possibility" Mitch was fabricating evidence against Sam to help Phoebe's case.
The legal dramas came after Sam and Phoebe's marriage took a turn for the worst, ultimately leading to their divorce being finalised in April 2020, after the NRL player found himself at the centre of the drug and domestic violence allegations, and wasn't helped by his alleged involvement in a sex video scandal that shook the entire South Sydney Rabbitohs team in 2018.
At the time, The Daily Telegraph reported that multiple Rabbitohs players exposed themselves to a 23-year-old woman during an online video chat, which saw the NRL Integrity Unit step in to investigate.
Two years later in October 2020, NewsCorp revealed that the corporation had obtained racy WhatsApp messages between Sam and another woman between October 2017 and May 2018, suggesting an illicit affair was occurring between the two as they made plans to meet up and exchanged photos of each other. The alleged mistress later told The Daily Telegraph that she was repeatedly harassed after reporting Sam's misbehaviour to the NRL.
Ahead of SAS Australia 2021 going to air, Fox Sports alleged that Burgess choked out one of the instructors of SAS during an intense "kidnapping" exercise, where the "soldier was so damaged that an ambulance had to be called".
Prior to the scandals in his personal life, Sam maintained one of the most iconic rugby league careers in modern history, which began as a youngin in West Yorkshire, England, after following in the footsteps of his rugby player father, Mark.
He made his professional debut for the Bradford Bull during the 2006 Super League season against Leeds, and despite his sporadic appearances across the season, the young gun's talent was undeniable, going on to win the Senior Academy Player of the Year Award that season.
At just 18-years-old, Sam was offered the opportunity of a lifetime to play for the national Great Britain team, entering the world stage in an international debut against New Zealand. After two more seasons with the Bulls, Sam had caught the eye of the South Sydney Rabbitohs and became the team's latest British import ahead of the 2010 season.
Sam spent the following nine years proving time and time again why he was an elite player, delivering a highly commendable grand final performance which led the Bunnies to their 2014 win — a game in which he suffered a broken eye socket and cheekbone before he was awarded the Clive Churchill medal. His spanning career also saw the elite player win awards such as the Peter Frilingos Memorial Award in 2013 and the Dally M Award for Best Lock in 2014.
He eventually drew the curtain on his 182-game career in October 2019 after he was forced into medical retirement at the hands of a chronic shoulder injury that saw him lose virtually all movement within his left arm.
Watch Sam Burgess as he takes on SAS Australia on Channel 7 and 7Plus.
If you or anyone you know is struggling and needs support, call 1800RESPECT on 1800 737 732 or Lifeline on 13 11 14, both of which provide trained counsellors you can talk with 24/7. You can also talk to someone from 1800RESPECT via online chat. If you are in immediate danger, call 000.
Get the tea first! Follow So Dramatic! on Instagram, and tune in on Mondays to get your reality tea fix with the So Dramatic! podcast with Megan Pustetto.