In May 2021, Channel 9 announced that Love Island Australia was casting for the next season of the show.

While usually the hit series brings out the hottest unearthed talent, this year, they're looking at adding some very familiar faces.
As reported on episode 73 of the So Dramatic! Podcast with Megan Pustetto, several former reality stars have been approached to star in the new series including Bachelor franchise alum Leilani Vekahni (2020), Laura Calleri (2019), Shannon Karaka (2020) and Nick Chamberlain (2020). A source also revealed to Megan that casting producers were also trying to recruit Newcastle Knights player Connor Watson for the show. 
In an email exclusively shared with So Dramatic!, one reality star shared how they were approached for this year's season by ITV Studios, the production company behind the hit TV show.
"We are currently casting Series 3 of Love Island Australia and you caught my eye. Are you still single? Looking for love? Ready for the hottest summer yet?"
"If you answered yes to the above, let me know and I'll send you more information about the upcoming series." Oooh!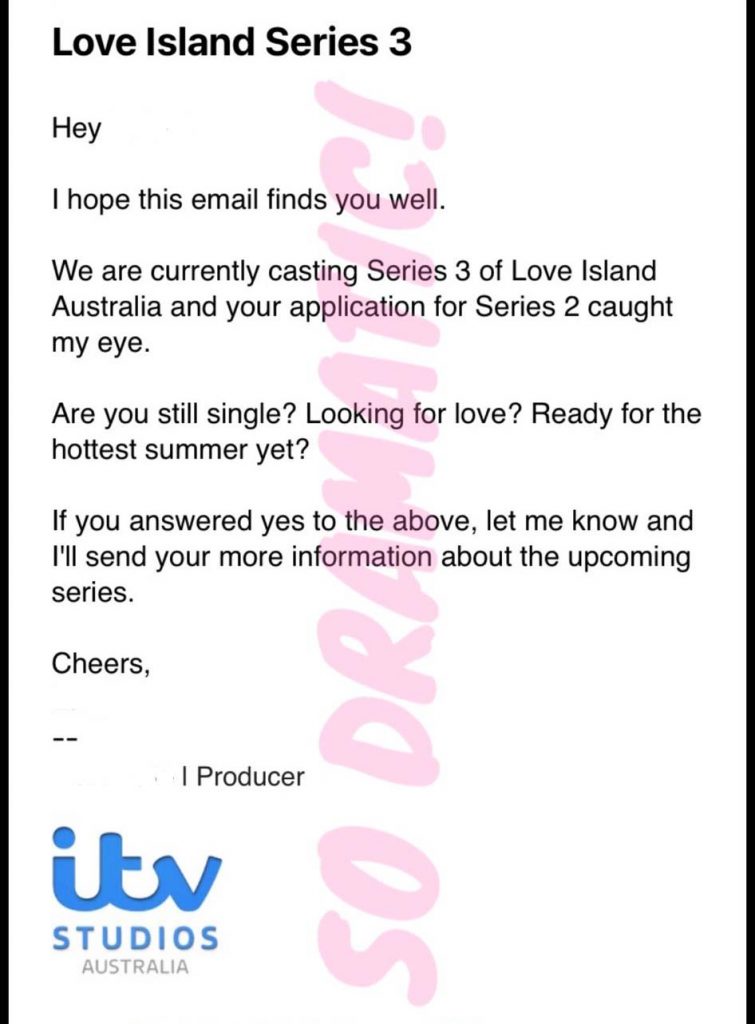 Insta influencer and all-round funny chick, Winnie Blues was also approached as were some very unsuspecting hotties around Bondi, who received business cards from casting.
According to one source, "They said they were looking for 'hot singles' to be on their new season of Love Island and if I would be willing to come for an interview with them. I ignored it as I'm not about that reality tv clout and genuinely want to find love the normal f*cking way."
They added: "I then got a message from my modelling agency saying they had reached out to them and said it would be great for my career, to which we were both like WTF nooo these producers are hungry I tell ya!"
Get the tea first! Follow So Dramatic! on Instagram and tune in on Mondays to get your reality tea fix with the So Dramatic! podcast with Megan Pustetto.